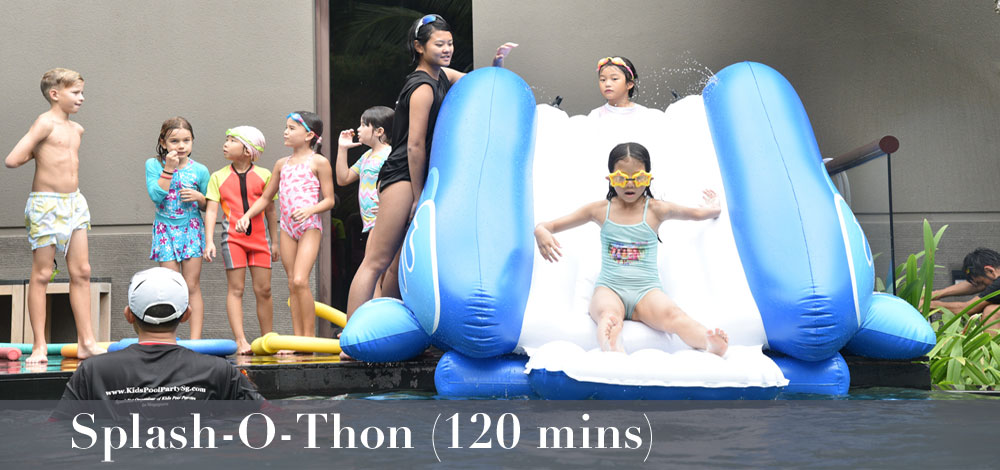 For the first 60 mins, we'll be conducting fun games and activities for the kids in the pool, ranging from simple ball tosses, team vs team activities either individually or as a group, and boat races! Challenging their reflexes, motor skills, and understanding of teamwork, the first 60 mins ensure fun and excitement for one al all in an organised setting!
For the next 60 mins, the kids will have free play with all our equipment, along with an inflatable water slide! This is the time for them to gather their favourite friends and have a splashing time in the pool! Of course, we will be on deck to supervise proceedings from start to end. For maximum fun in the pool, this is it!
IMPORTANT NOTES:
Kindly get clearance from the management of the premises to allow for the water slide to be used.
The size of the slide is approximately 3.5m x 2m x 1.3m (Height).
We'll need a clearance of at least 4m x 4m where the slide will be placed.
The depth of the pool where the slide is to be placed has to be at least 1.2m.
Splash-O-Thon (120 mins)
$1,180 / -
60 mins of fun-filled pool activities
For up to 20 children
Presence of at least 3 (three) staff
Provision of inflatables, oars, noodles, balls, and pool party toys.
Supervised pool environment
60 mins of supervised free time and play with our pool toys
Inclusive of water slide!
If the group is younger and predominantly girls, then Mermaid Moments is the perfect package to get up close and personal with a real-life mermaid! Don't forget to check out other party services too, such as party goodie bags, and dessert table decoration!